Perfect Your Virtual Home Tour
We live in a technology-driven world. And for the most part, this is awesome! Technology can make inconvenient tasks more convenient, slow activities faster, and boring events more fun.
For example, virtual home tours. Your clients can tour potential new homes on their computer, phone, or tablet from anywhere! But setting up a virtual home tour isn't as simple as you might think.
Read below to find out the most common virtual home tour mistakes and how to avoid them.
Virtual Does Not Mean Digital Recreation
For an interactive home tour to be effective, clients need to be able to see real footage of the home, not a digital recreation or a 3D model. The virtual experience should mimic the real thing as much as possible.
With a true virtual tour, clients have the ability to feel what it's like to be in the space, walking around and viewing each room. An interactive marketing tool, such as HomeTagz, can help your virtual home tour. With detailed videos and images, a virtual home tour can be taken to the next level with HomeTagz.
Technical Glitches
Before you advertise a virtual tour, you need to test it on every type of device a potential client could be using. Check the loading times, the clarity of the video or images, and the ease of navigation.
If the page takes too long to load or the video lags, this is going to create a negative experience for the customers, and they are less likely to complete the tour. If you are doing a live virtual tour, test your own device before starting the tour. Knock out any technical issues before viewers engage with your virtual tour.
Poor Sound Quality
Along with the potential technical glitches during a virtual home tour, distracting sound can take away from the professionalism of the tour. Try to eliminate noise during the tour, like a lawnmower or any background noise that could take away from your video.
Even your own footsteps can be distracting if your shoes are squeaky or your heels are clicking on the hardwood floors. Be aware of any sounds that could distract the viewer during the tour. Also, consider recording a few versions of the tour if you're worried about noise.
For example, if you are recording your welcome video for a HomeTagz listing, be sure that your background is neat, there isn't any background noise, and that your video sounds natural and not scripted. Act like you are talking to homebuyers face to face!
Not Enough Detail
During a home tour, clients want enough detail to make a decision but not so much detail that they're bored by your voice. It's a delicate balance of not enough detail and too much detail.
You can also use HomeTagz to give your guests the opportunity to get details on features, disclosures, information, and items for sale – by tagging these details within your property listing. They can navigate their own tour and have full transparency with the details you tag.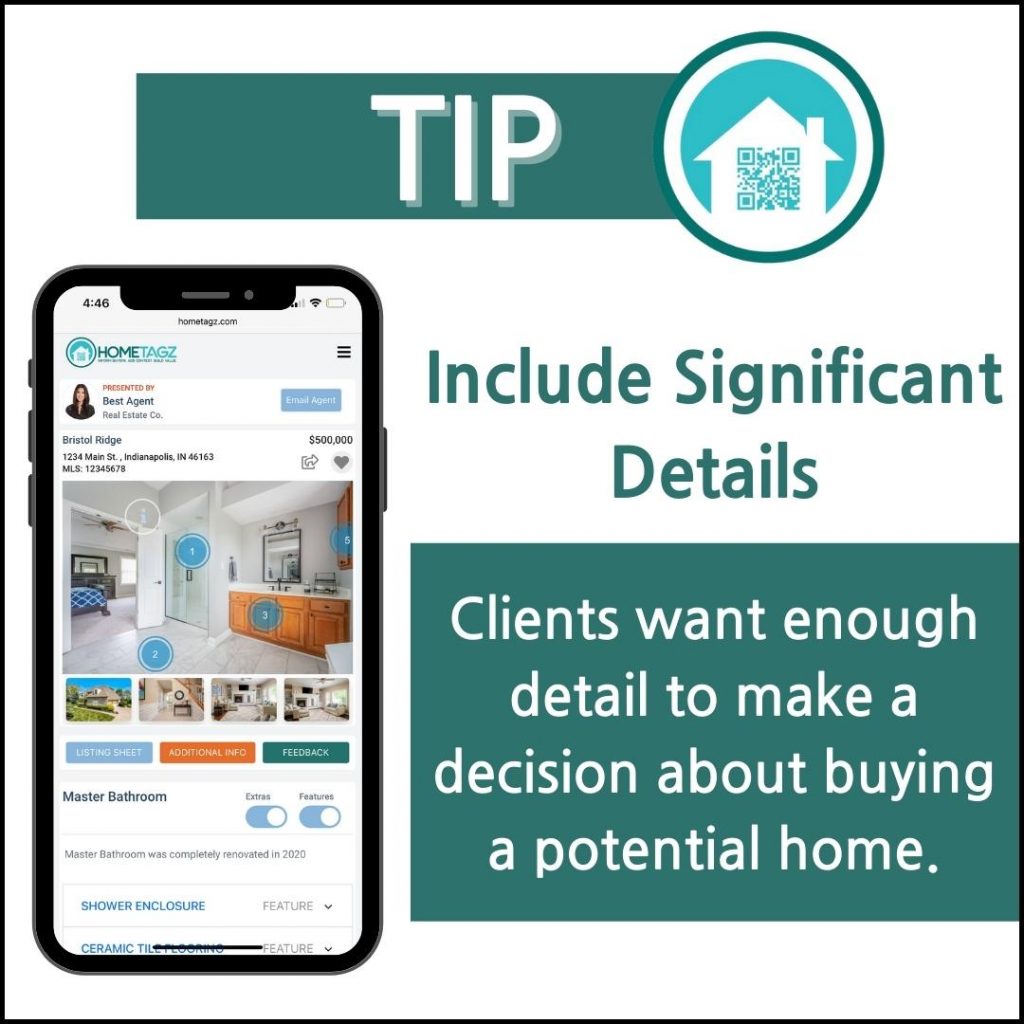 Cluttered Spaces
As a real estate agent, you know that first impressions are important. People want to enter a home and imagine themselves living there. But that's hard to do when spaces are messy or cluttered.
Staging for a virtual tour is as important as an in-person tour. Clear every room and store items in bins or other storage receptacles.
Old-School Marketing
Marketing a virtual tour is different from marketing an open house or in-person tour. Your marketing tactics should target customers that appreciate advances in real estate technology. 
Don't forget to reference your virtual tour in marketing materials. Feature the link or a QR code on materials so that potential buyers can locate virtual materials at any time.
Use HomeTagz interactive marketing tool to create a plan for each listing and track data.
Weather
Lighting and weather matter, especially for virtual tours. You want to be able to present the home in its best condition.
Pick a sunny day to highlight the natural light in the house and the outdoor features. Avoid rainy days where lighting is minimal.
Lack of Creativity
Separate yourself from the competition by creating a unique virtual tour experience. Make it entertaining by telling stories, offering suggestions for different spaces, or sharing fun facts about features in the home.
As the tour guide, it's your job to describe the home and entertain potential buyers. They will sense your enthusiasm and also feel excited about the house.
Using HomeTagz to highlight various features in a home can help boost creativity. HomeTagz is unlike any other real estate tool. With this interactive marketing tool, viewers will have an experience that sets your listing apart from your typical real estate listing.
Forgetting Outdoor Spaces
It can be a labor-intensive process to capture every space inside a home. So, the idea of capturing outdoor spaces might seem like too much effort, but it's worth it!
Take time to assess the outdoor spaces and how to capture them in an attractive way. Try to give a realistic sense of the size of the property and how it could be used. Potential buyers want to see the curb appeal of the house as much as the details inside.
HomeTagz allows you to tag different features that the outside of the home has to offer – take advantage of that!
Ignoring the Data
Using real estate technology like HomeTagz allows you to collect information about how your listing is performing. See how much traffic the listing is getting and decide whether you need to change your marketing tactics.
Agents and groups that don't take advantage of the technology and information could be missing out on important insights about potential buyers. Results come from data, if you aren't analyzing your data, then you could be missing out on success. With HomeTagz, you get built-in digital marketing tools that help you stay-up-to-date with the data that comes in.
What About Self-Guided Tours?
Most of the tips above also apply to self-guided tours. Self-guided tours allow potential buyers to view the house at their own speed. They can move quickly through spaces, or they can linger and look at details.
If you have the technology to offer a self-guided tour, take advantage of it. And when you use HomeTagz, clients can view unlimited tags to see information about different parts of the house. And it's not only for the buyers! As an agent, you can use HomeTagz to keep track of information and collaborate with sellers too. HomeTagz has more to offer than just virtual tours. With HomeTagz you can create a robust marketing campaign and provide full transparency to viewers.
Host the Perfect Virtual Home Tour
Details are important, especially for a virtual home tour. Consider some of the common mistakes listed above as you plan your next virtual tour.
Be sure to test the digital elements and pick a sunny day to capture pictures or video. Be creative with your tour details, and don't forget about the outdoor spaces. Use an interactive marketing tool to help bring all of these virtual home tour aspects together.
If you're looking for an easy way to make your virtual tour better, register for HomeTagz! You can also book a demo to see the full potential that HomeTagz has to offer.