How a Real Estate Tool can Help Agents
Selling a home can be an overwhelming and stressful endeavor because several steps are involved in the process. These steps include marketing and dressing up your home, naming the price, home inspections, receiving an offer, negotiating with buyers, preparing all the documents, and then finally closing the deal. The most difficult steps are those that involved finding the right buyer for your home.
As real estate agents, we sometimes struggle to properly market the property, highlighting the best features of a home isn't always easy especially when you don't have the right platform to help you achieve this goal. If you don't have very attractive videos and photos, it can be difficult to convince a buyer to make an offer or to even compel them to visit your property. Thankfully, there is an effective real estate tool to help real estate agents sell their homes faster.
This is where HomeTagz comes in. Think of this as an interactive real estate tool that allows you to provide the most important details to the homebuyers. This tool can immensely help you sell more homes and allows the buyers to actually see other important details that may not be included in a regular listing. 
How HomeTagz Work
The ultimate goal of this real estate tool is to provide the best platform for both sellers and buyers. Utilizing it can improve your real property's marketability and help buyers make an informed decision about a home that they are considering purchasing.
It's so easy to use HomeTagz. You simply tag details throughout your property to provide buyers additional information about your home. Keep in mind that the information you include can make or break your sale. HomeTagz also included other tools to help real estate agents build campaigns, track analytics, and get feedback from buyers. 
This effective real estate tool uses QR codes for their listings and allows buyers to find out everything about your home without actually visiting it. In addition, it's an excellent tool to highlight your home's best features. When done properly, you will be selling homes faster than the speed of light!
Tag Anything in the Property
With the HomeTagz real estate tool, you can practically tag anything in the house, from energy-efficient windows to your newly bought carpets and water detection devices. 
After taking pictures of the home, you can ask the property owners about great features in their homes, helpful information, disclosures, items for sale, and then start tagging the property.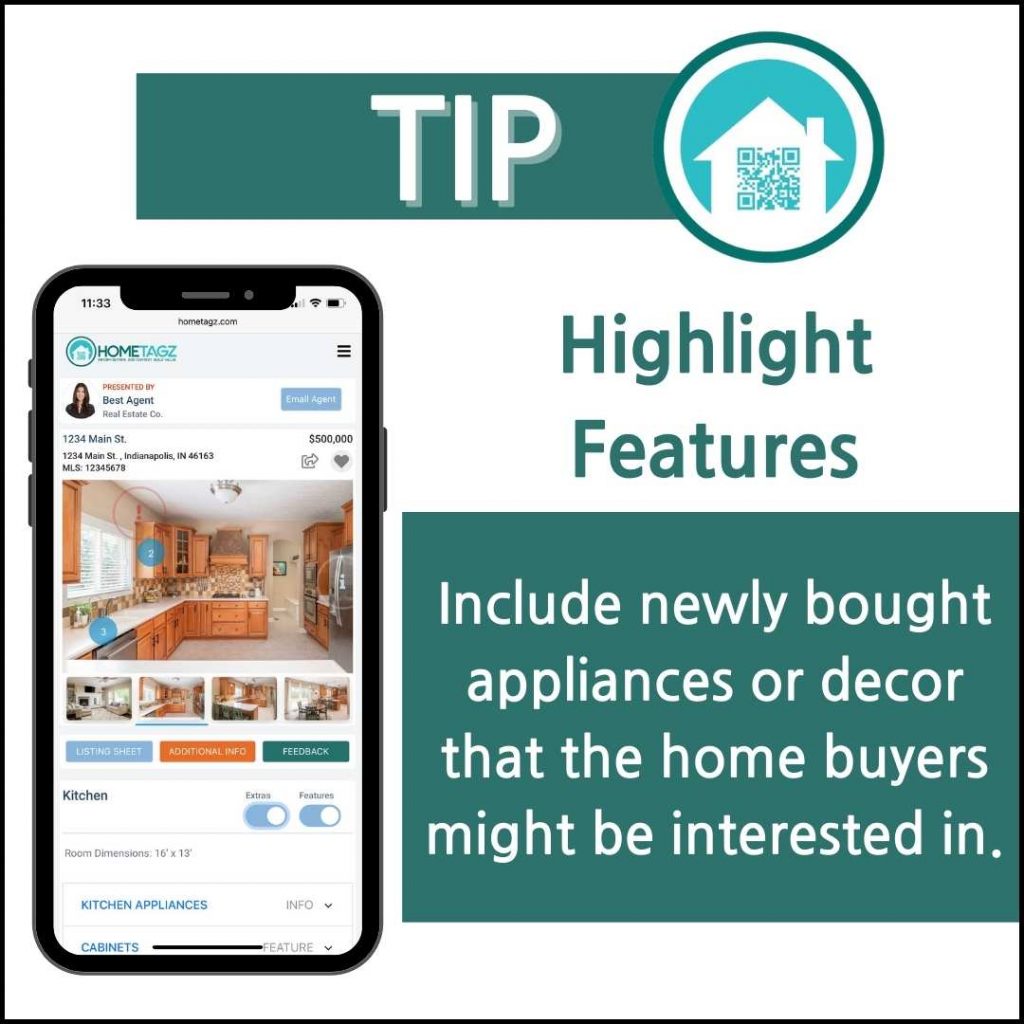 Features – You can include newly bought appliances or decors that the home buyers might be interested in; high-efficient appliances or fixtures; or any feature you think might attract the home buyer.
If you already have a listing with us, but you decided to remodel the home, you also get the opportunity to upgrade your listing. Features are those with blue tags.
Information – you can use white tags for important information about your home. This includes the last time that you had your water heater or HVAC services, high-quality materials that you want home buyers to know, or when you recently upgraded the insulation in the attic.
Disclosures – you'll see red tags for the disclosures. Put a red tag if there are items not included in the sale, such as the new appliances or decors. Other details include the last time that you repaired your pipes or your entire plumbing.
Items for Sale – when you see a green tag, the items are for sale. You can tag specific items that you think the home buyer might want to consider purchasing for the home.
After tagging features and other information, the real estate agent can also include supporting documents such as floor plans or invoices and even before and after photos. Make sure that you coordinate with the home seller for the documents needed.
Why Real Estate Agents and Home Buyers Love HomeTagz
The real estate agent needs to know everything about a specific home he or she is selling to close a sale. This can become overwhelming, especially when you have a lot of listings or several homes to sell. HomeTagz can make the home selling process a lot more efficient for you. There's even no need to memorize all the features and other important information about a home as there is a platform that allows you to store this kind of information — and make it available to all home buyers. 
To the home buyer, HomeTagz is an incredibly helpful tool. If you want to buy a home, you would want to make sure it's something you really see yourself living in for several years. When it's for investment purposes, you would want to have a home that can also give you the highest return on investment. With HomeTagz, homebuyers can get specific details about a home. These details can really help you decide whether a specific home is what you really want. 
HomeTagz is the best platform for both real estate agents and buyers because of the transparency it offers. There are no surprises, and everyone will have a better experience. 
Get Started With a Real Estate Tool and Watch Your Sales Soar
Are you ready to publish your properties? You can get started for free at HomeTagz. The free plan lets you build and tag one property to give you an idea of how beneficial it really is to real estate agents and home buyers. Our core features give you unlimited space, tagging, attachments and unlimited video. 
All paid plans also give you access to other helpful tools such as Analytics, where you can track property views and where traffic is coming from; pre-designed templates to showcase your brand; video tutorials, send invites, and then customer support. Register now!