Creating an Interactive Home Tour with HomeTagz
The world of real estate is constantly evolving. Before, selling a house required people to visit the location. Now, you can do the entire transaction from start to finish through the power of the internet.
Virtual reality and augmented reality technology has benefited many industries around the world, and real estate is no exception. HomeTagz allows you to build an interactive home tour for all of your real estate listings. Potential buyers don't even need to be in the same state to check out a home, they can view these listings anywhere.
Here are some of the many benefits of an interactive home tour and a real estate tool such as HomeTagz. 
1. Saves Time
A hot piece of property means a lot of attention. You could end up spending most of your day receiving hundreds of phone calls from people wanting to visit a house. That means scheduling those visits and meeting potential buyers.
You also have to deal with maintaining the house while people come and go. With a virtual tour, you don't have to worry about any of that. Customers can see everything about the property through their electronic devices. An interactive home tour provides the opportunity to explore the house and view relevant photos and other documents.
With the HomeTagz tagging system, photos of the property can include various features that a typical virtual tour would not.
2. Shows Innovation
Print material is a classic approach to marketing. It's been tried and tested throughout the years. However, it's become increasingly outdated in the age of the internet.
Nowadays, you need to innovate in your sales methods to gain and maintain a potential customer's attention.
A virtual tour provides more information than a piece of paper can, and it doesn't take that much more time to set up. It also helps your real estate agency stand out from the competition. HomeTagz allows you to ditch print marketing, and bring everything digital. This interactive marketing tool can elevate your listings and provide greater detail.
3. Boost Sales
One of the biggest interactive home tour benefits is its impact on your sales. 
Interactive home tours build more interest in a property than other advertising methods because they give more information. All a potential customer needs to explore a home is a solid internet connection and a computer. They can also use a smartphone to access your tour.
An online tour encourages more distant customers to purchase a home since they don't need to travel to tour it. And, with HomeTagz, homebuyers get all of the details that they would get with an in-person tour.
As for in-person tours, you can also set up QR codes around the home to encourage more engagement from visitors. A simple scan can show them more specific information about the house, such as appliance age, paint colors, and remodel history. This can be done by the HomeTagz tagging system.
4. Answer Questions Ahead of Time
With HomeTagz, you can tag an unlimited amount of details in a home. Details such as features, information, disclosures, and items for sale.
Tagging these details allows for full transparency for everyone involved. Key features won't go unnoticed and questions can be answered with a simple tag.
Tagging details such as information and disclosures can help eliminate the time spent back and forth answering questions that potential buyers may have.
5. Virtual Open House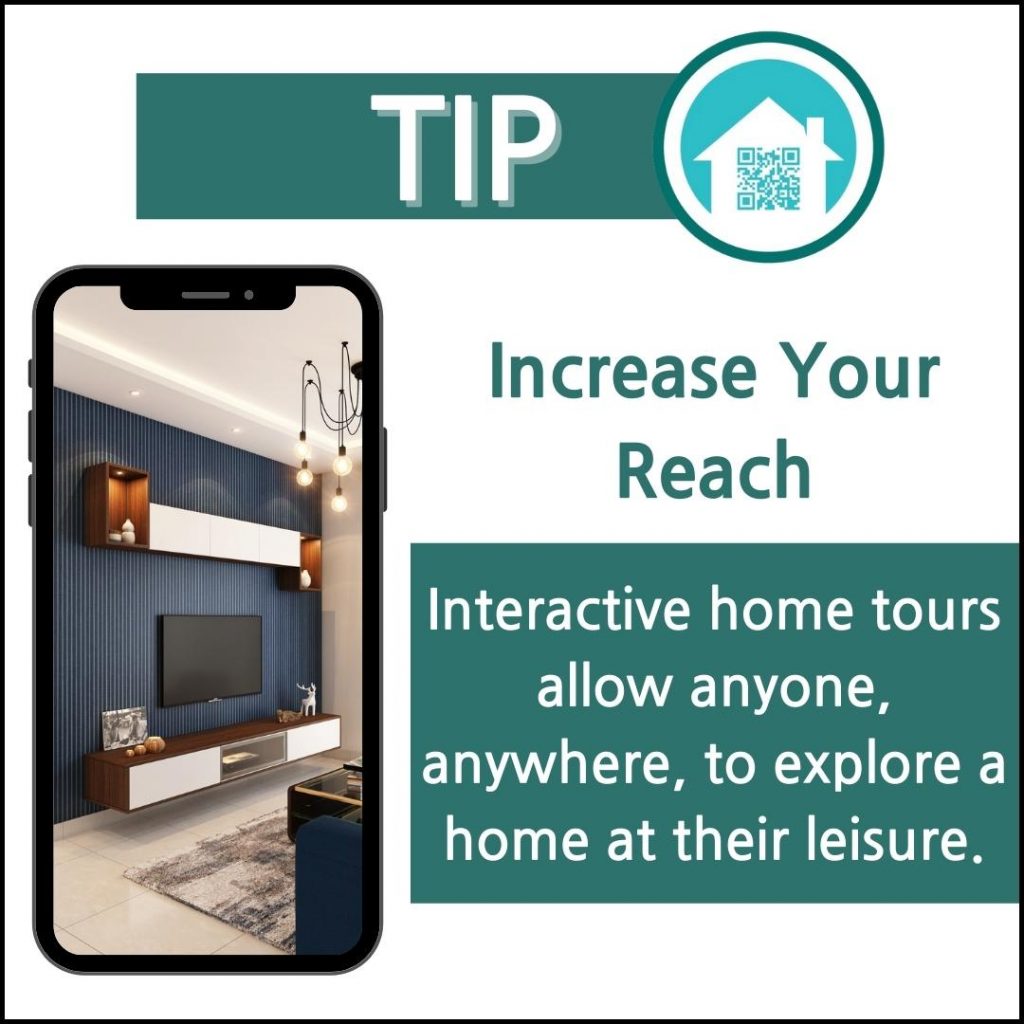 Traditional open houses require a lot of time and effort to set up and host. Even though they don't usually last more than a couple of hours, you might have to spend longer than that getting everything ready in advance and cleaning up afterwards.
Although you can use HomeTagz for in-person tours, you can also share your HomeTagz listings online.
An online interactive home tour stays up as long as you need it to. It's also easier to gather information on viewers through the digital marketing tools that you get with HomeTagz. 
6. Increases Your Reach
One of the limits of real estate marketing is physical distance. Even if someone is looking for a home in another area or state, they may not be willing to show interest in a property they haven't personally visited.
Interactive home tours solve that problem by allowing anyone, anywhere, to explore a home at their leisure. Share all the necessary information about a property, such as its history and neighborhood statistics. With HomeTagz, you can give all the same information online, as you would during an in-person tour. Providing an interactive tour with HomeTagz will attract more serious buyers to your in-person tours. 
7. Easy to Set Up
Technology can scare off a lot of people because it may be too complicated for them to figure out. Setting up an interactive home tour with HomeTagz isn't complicated at all.
A virtual home tour can be created with a series of videos and images, showcasing the property. Attach additional information to specific tags on an image that provide more information when clicked.
For example, you can tag a picture featuring the garage that shows the kind of garage door opener installed. You can also note any recent modifications or renovations that were done to a certain location.
Set Up Your Interactive Home Tour
An interactive home tour is just the thing to take your real estate game to the next level. Not only is it convenient for everyone involved, but it also helps you stand out from the competition. 
With HomeTagz, you can let potential buyers easily view a property online and get all the important details in just a few clicks. You can also enhance the open house experience with carefully placed QR codes that lead to more information.
Register online for free to start building a property profile today.