Create Engaging Listings with an Interactive Real Estate Tool
The HomeTagz tool is an interactive real estate tool that can transform a short and static real estate internet listing into a dynamic and engaging environment. By highlighting a home's features, information, and disclosures in vivid detail, this tool can communicate the true value of a home, get listing visitors excited about a property and set a tone of transparency and trust between the agent and potential buyers.
Internet Listings are Short and Static
The internet has revolutionized how homes are bought and sold. A potential buyer can review dozens of properties at a touch of a button, anytime and anywhere. There is not an ounce of pressure on them to make a purchase and no guilt for clicking away quickly from a home that doesn't quite fit their needs.
But internet listings have some drawbacks — a short paragraph of text and a laundry list of generic-sounding features do very little to express the true character of a home. It is impossible for the agent to list all of the detailed features in a great house — a brand new backsplash in the kitchen, stair railings that were handmade by a local craftsman, an expensive hanging light that was imported from Italy, etc. The dozen or so photos of the house help a little, but it is impossible to know if a buyer actually caught the nuances of a home.
All of these details, critical for hooking a buyer, can be easily pointed out by the agent in an in-person private walk-through, but they just don't translate well on a static internet web listing.
The HomeTagz Tool Can Transform an Internet Listing
Using patent-pending technology and design, the HomeTagz Tool is set to transform real estate internet listings. With our real estate tool, an agent can turn traditional listing photos into dynamic, interactive experiences for potential buyers.
As buyers are viewing photos of the home, they are given the option to click on certain "tags" that the agent has placed on the photos. A pop-up then provides additional information such as: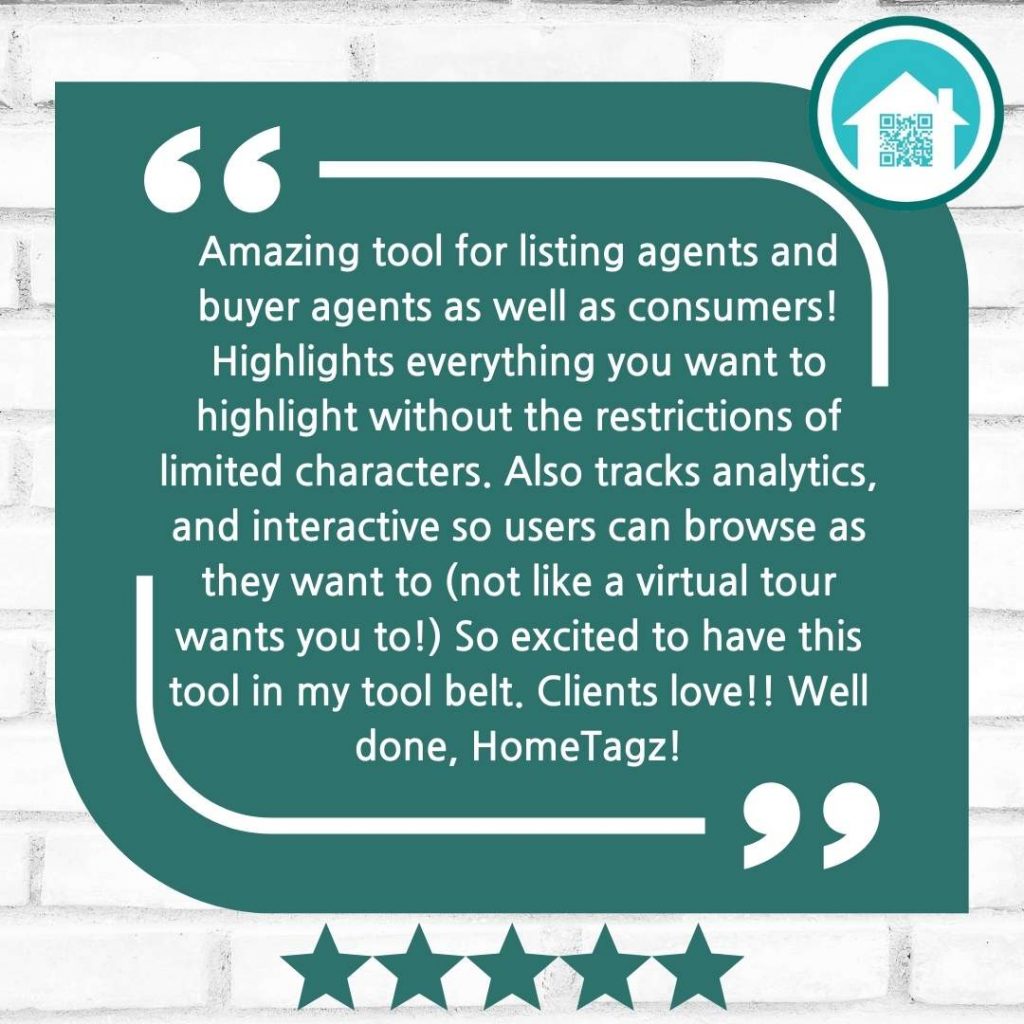 Any text that the agent wants
Additional photos
Links to websites
Links to documents
Real estate agents can use these tags to communicate things like:
Features
Information
Disclosures
Items for sale inside the home
Some possible examples of tags in use:
A photo of the kitchen has a tag on the backsplash. Clicking the tag reveals text informing this backsplash was recently replaced. A before and after photo has also been loaded onto the tag.

A photo of the stairs has a tag on the railing, discussing the fact the rail was handmade by a local craftsman. A photo has also been loaded into the tag showing the local craftsman when he was hard at work in the room a few years ago.

A photo of the entrance hall has a tag on the hanging light. Clicking on the tag pops up a link to the Italian manufacturer's website. Another click reveals a scanned image of the original receipt, proving authenticity and value.
HomeTagz: Additional Features
The HomeTagz interactive real estate tool is simple and intuitive for agents to set up. And the task of adding tags need not land solely on the shoulders of a busy real estate agent. Tag permissions can be customized to give access to the home sellers and office staff. Let the sellers play an active role in the listing process by encouraging them to add as many tags as needed to communicate the value of their home. Even small details, such as the precise color codes used to paint the walls, will impress potential buyers.
The HomeTagz real estate tool provides agents with a suite of analytical reports. No more having to guess what a visitor to the listing actually read. Agents will have a report that shows them every tag that was clicked on in a visit. In addition, this interactive real estate tool allows potential buyers to leave feedback for the agent, turning an internet listing into a two-way communication tool.
HomeTagz can even help execute a busy open house event. Every property receives a unique QR code that can be printed by the agent. As potential buyers enter the house, they can scan the QR code with their phone, and now have direct access to the tags for the home they are visiting. And now the agent does not have to try to memorize every little detail about a house because the agent will also have HomeTagz as a reference.
HomeTagz Sets a Tone of Transparency and Trust
HomeTagz allows the agent to create a welcome video to appear on the enhanced listing. This video can be used by the agent to introduce themself and the property. It's a chance for the agent to make that perfect first impression, well beyond what a static MLS listing can provide.
The whole intention of this interactive real estate tool is to provide features that will improve transparency and trust inside the home shopping experience. The more details provided, the more at ease a buyer feels that the home is truly worth the price being asked for.
Give HomeTagz a Try
The HomeTagz website provides several free resources for you to learn more about the HomeTagz Tool. See the tool in action via a live example listing. Watch a variety of videos showing you the tool's functionality.  
We have a wide range of pricing options depending on the number of properties, number of collaborators, and desired features. There is even a free account option that lets you try the tool with a property of your own.
Give HomeTagz a try and see for yourself why our interactive real estate tool is the innovation that will transform how internet release estate listings are produced. We are confident that you, too, will give our tool rave reviews. Register today for a truly interactive experience!