Improve Real Estate Transactions with this Tool
A real estate transaction doesn't have to be complicated if you use the right techniques to make it simple for all parties involved in the process. Communication and convenience are vital, but it's easy to forget key details while on home viewings and when sending a seemingly endless string of emails.
Although virtual tours have helped by allowing buyers to view homes at any time, most systems are not a perfect solution in their current form. A real estate agent still needs to be online to answer questions, and a buyer may not be available to give their input.
Fortunately, there is a way to improve how you conduct real estate business that provides significant benefits to agents, buyers, and sellers.
Let's dive in and find out all you need to know about using HomeTagz.
Benefits of HomeTagz for Real Estate Agents
While there is no doubt real estate agents need to work hard to perform their job well, this doesn't mean they shouldn't use technology to make some processes easier. While virtual tours are useful, they are not as informative as they could be. HomeTagz solves this issue and takes real estate interactivity to a new level.
Reduce Workload While Increasing Efficiency
Using HomeTagz, an agent can add crucial information to every aspect of a home to help sell a property.
For example, perhaps the kitchen worktop is brand new, or the water piping has recently been replaced. Using color-coded tags, a real estate agent can place all of this information online, ensuring buyers have all the information they need. This can significantly cut down on emails and phone calls as queries come up – the answers are all available on the system.
Increase Online Marketing Presence
One of the most important tools for real estate transactions is the ability to have a dominant online presence. Posting a HomeTagz QR code on social media, in emails, and across other various relevant platforms allows you to attract a wider audience. You can also post specific keyword tags, making them more likely to attract the interest of search engine algorithms.
You can then measure these results on the HomeTagz system, allowing you to see which marketing strategies are most effective.
Useful System Updates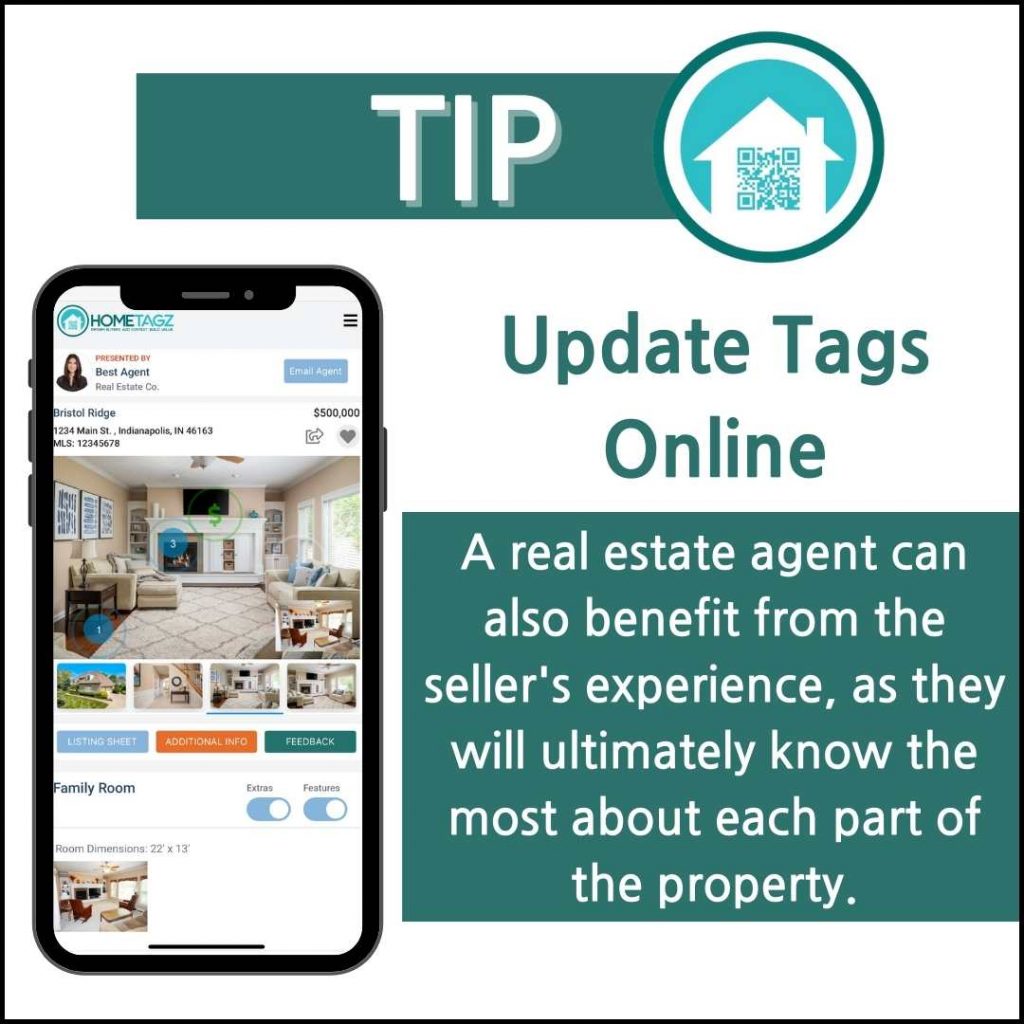 Your real estate business needs to future-proof its marketing and sales tools, and HomeTagz continues to evolve as technology improves. This means you always benefit from the latest advancements that can help you enhance the client experience and increase sales revenues.
Offer an Improved Experience for Sellers
If a real agent cannot keep the seller happy, the client will inevitably take their business elsewhere. With many people posting and reading online reviews on sites such as Yelp, this can damage your reputation. But, the HomeTagz system makes it simple to delight a home seller with a range of fantastic features.
Update Tags Online
The most effective real estate tools should be inclusive of all parties and HomeTagz allows sellers to update tags online. This means a real estate agent can also benefit from the seller's experience, as they will ultimately know the most about each part of the property. This is a great way to ensure you provide a buyer with as much information as possible.
Build Trust with the Property Owner
It's no secret that real estate agents make money through commissions. Unfortunately, some buyers feel they have received information in the past that turned out to be misleading. But, when using our transparent system, all parties can see exactly what is on the platform. This ensures there is no confusion and creates a bond of trust.
Sell Individual Items
A seller may not plan to take all their furniture with them when they move. This is why adding tags to items they wish to sell is an excellent way to let people know what is for sale. While a home viewer may not buy the property, they could purchase one or two pieces of furniture before they go.
Ease of a Real Estate Transaction for Buyers
Improving real estate transactions involves removing obstacles that may prevent the potential buyer from making an offer. This is another area where the HomeTagz tool excels.
View Current Property Details
When viewing a property, a real estate agent may advise that a worker will be repairing certain aspects in the next few days. But, a viewer may not come back to ask if the property is ready.
However, it's easy to update the tag on the HomeTagz system so that a potential buyer can check the situation at their convenience. With this method, they always have the most up-to-date information available.
Get Instant Answers to Queries
Sending an email asking about the heating system or if the electrics are new is fine, but it may take a busy real estate agent a day or more to reply. But, simply by clicking on a tag, the buyer has all the information they need to make a decision.
Leave Feedback for a Real Estate Agent
It's convenient for viewers to leave feedback about a property when they are on the platform. This means they are more likely to provide their comments which gives you valuable knowledge. You can then follow up on these details and increase your chances of making a sale.
Connect with HomeTagz for Your Real Estate Agency Needs
When you use modern technology in the right way, you can provide your clientele with a truly immersive experience that can increase your real estate transaction figures. More than ever, people are searching and buying using digital technology, and your business can benefit from adapting to the modern sales environment by using the best online tools.
At HomeTagz, we are changing the real estate market with advanced software that provides huge advantages for agents and their clients. Our system not only helps you to sell more properties, but can boost your digital marketing efforts for excellent long-term results.
For a demonstration and to find out how you can register for free, contact the HomeTagz team today.