Using an Interactive Marketing Tool to Improve Real Estate
By using HomeTagz, brokers, teams, and agents can access the most powerful real estate interactive marketing tool on the market today.
Real estate agents can enhance the property's marketability by collaborating with sellers and building trust with buyers. A unique, state-of-the-art interactive marketing tool such as HomeTagz is a definite game-changer.
Read on to discover why HomeTagz is the ultimate marketing application. Every real estate agent/broker, Property Manager, and real estate advisor should use this innovative real estate marketing tool to improve the homebuying process.
What is HomeTagz?
Providing buyers with all the essential information they require in order to make an informed decision can be made more accessible by simplifying the process.
With HomeTagz creating a complete virtual homebuyer experience throughout your property by tagging every detail, you are able to create a unique virtual home buying experience that will genuinely impress clients. Get instant feedback from homebuyers and track analytics as you create campaigns with this one-of-a-kind application.
Patent-pending technology from HomeTagz enables ease of use that is unexpected for a technology of this kind. This app is intuitive and offers endless possibilities for sharing and viewing information about the properties you are managing the sale of. It is a unique piece of software that enables you to tag your property, whether it be a home, condo, lot, commercial or industrial property, and more.
How does this interactive marketing tool work?
HomeTagz allows you to create a virtual open house tour of any property. But that's not all. HomeTagz provides a unique open house experience, unlike anything you've ever experienced before.
HomTagz is a technology platform that allows homebuyers to tap on hotspots throughout a property listing while walking through it and viewing the property's value. By using a home viewing service, you can make home viewings more transparent, cooperative and encourage potential buyers to focus on the details that you want them to focus on.
Tagging is unlimited, allowing sellers and agents to incorporate any media or information helpful to the full disclosure of the property. Adding property details to a HomeTagz property becomes easier and faster by inviting sellers to collaborate. Taking advantage of the various tagging options, you have the opportunity to disclose any features or updates that have been added to the residence. You can expand your listing by uploading as many documents, photos, and videos of any property as you like, so buyers can learn everything they need to know.
Streamlining the informational process not only makes showings and inquiries easier, but potential buyers will have the confidence that all their questions about a property can be answered – even things they didn't think about!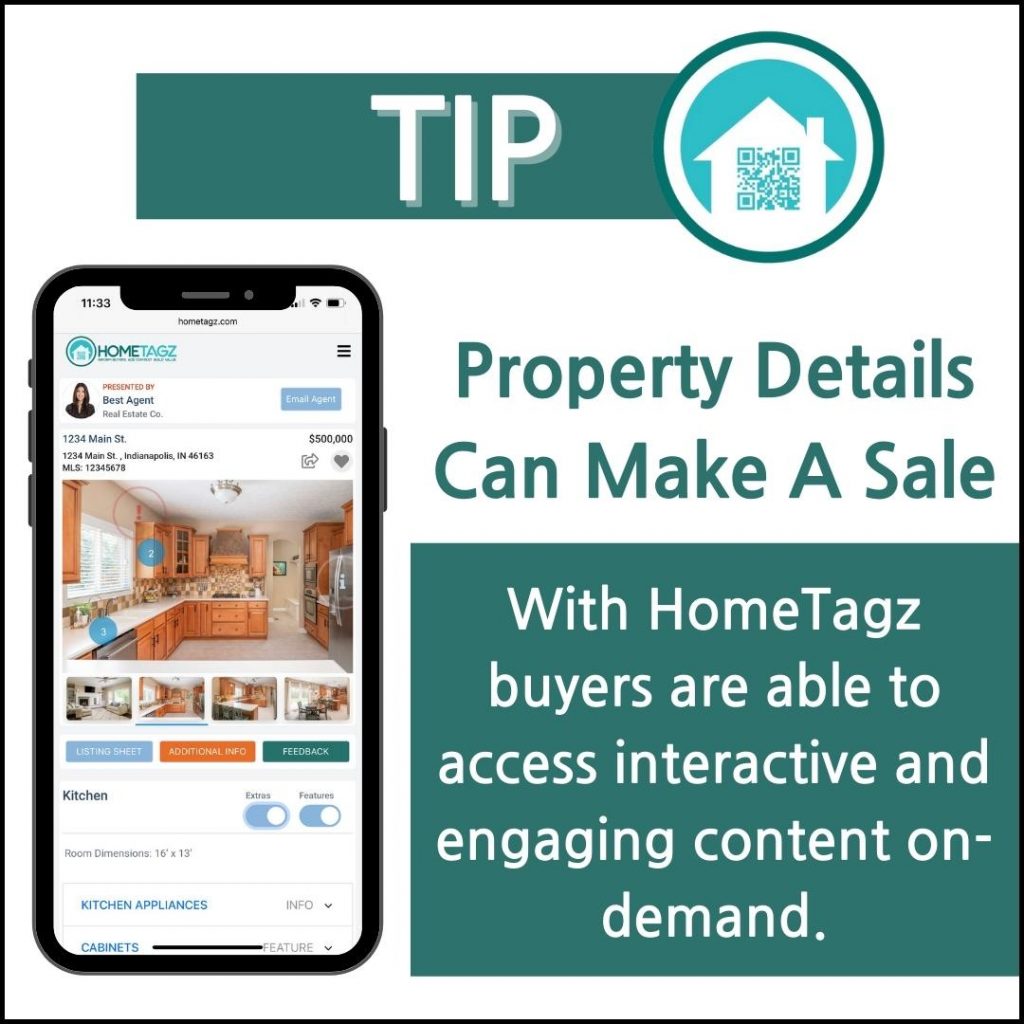 Property Details Can Make A Sale
During the home tour, buyers are able to access interactive and engaging content on-demand via their phones, all while viewing live video feeds. The process of doing this is done by using the HomeTagz tagging system. The tags include features, disclosures, general information, and items being sold as well as the price.
HomeTagz property details can also be viewed by appraisers and inspectors. When a property's details are well documented, it can help you convince a buyer of the home's value. A well-documented property's details can even be used in disputing low appraisals.
What Features Can Be Tagged?
Anything and everything!
Information about the property itself, such as new roof installations and warranties on appliances, can be added with ease. Detailed information, like the last time the fireplace was serviced, or paint color identification numbers, are incredibly helpful tags for potential buyers.
Required disclosures, like invoices for repairs and foundation issues, can also be added, negating the need for a lot of back-and-forth communication between agents and buyers. You can even add items for sale, like big-screen televisions or furniture, within HomeTagz. With unlimited tagging capabilities, the possibilities are endless.
Improving Marketing Data With Analytics
The benefits of HomeTagz don't end with the listing and virtual tour itself. Using HomeTagz allows realtors to build unique, targeted campaigns for home listings, and use the back-end analytics to create a marketing strategy that fits the listing's unique characteristics.
Real estate agents can also get an indication of how much traffic and views are being generated to your HomeTagz property and know where and when those views and traffic are coming from. There is also a responsive tool that helps you to get instant responses from those that view your properties.
Boost Visibility
Not enough interest or traffic? Then simply add your HomeTagz link code to the MLS virtual tour field where you have included your property information.
The greater exposure and greater visibility your properties will have on search sites like Realtor.com and Zillow will allow you to sell them more quickly. Taking control of your property branding provides a broader audience of potential homebuyers with a chance to see it.
Adding a buyer introduction video is an excellent way to ensure that your property stands out from the competition as well. The video clips, photos, and individual details about your property can all be added. If you choose to use HomeTagz, you will be able to include video tours, detailed images of rooms, details of objects, as well as the history of the house.
Not only does this add to disclosure, but you can build trust in both sellers, and buyers, that everything is exactly as it should be, with no surprises.
Create A Truly Interactive Experience
HomeTagz can be accessed in person by buyers to give a personalized experience as they take a tour of a property. With HomeTagz, sellers can create their own welcome videos, which help them set the tone for each and every show because they help take the property's digital curb appeal to the next level.
HomeTagz is trusted by top brokers, such as Keller Williams and Remax. Schedule a demo today and discover how HomeTagz will change the way you and your clients experience the process of buying or selling a home.